At Grace Darling (and across the wider NCEA Trust) it's not just our pupils who love to read, our staff love it too! If you're looking for some inspiration for your next read, check out some of our staff recommendations below.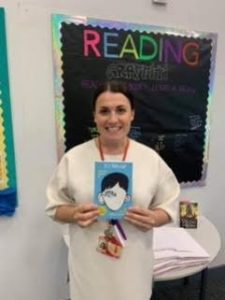 WONDER – RJ Palacio
Why fit in when you were born to stand out!
August (Auggie) Pullman was born with a severe facial difference that, up until now, has prevented him from going to a mainstream school.
Starting 5th grade at Beecher Prep, Auggie wants nothing more than to be treated as an ordinary kid—but his new classmates can't get past his extraordinary face. Wonder begins from Auggie's point of view, but soon switches to include the perspectives of his classmates, his sister, her boyfriend, and others. These voices converge to portray a community as it struggles with differences, and challenges readers, both young and old, to wonder about the true nature of empathy, compassion, acceptance, friendship, and—ultimately—kindness. Auggie is a hero for the ages, one who proves that you can't blend in when you were born to stand out.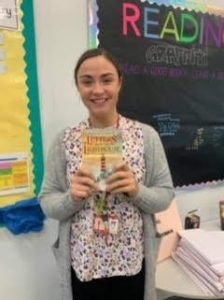 Letters from the Lighthouse – Emma Carroll
Have the strength to fight for what you believe in!
It's 1941 and the Second World War rages on longer than anyone anticipated. Reeling from the death of their father and the disappearance of their sister Sukie, Olive and her brother are evacuated to the coast of Devon. After discovering a strangely coded message that she's certain has something to do with Sukie's disappearance, Olive embarks on a dangerous adventure as she's determined to get to the bottom of the mystery.Olive is a wonderful protagonist. Being an evacuee she has an understanding of the prejudice that can come from lack of understanding. The thing that touched me most within this wonderful novel was the opportunity to hear the stories behind all those effected by war along with the refugees and the impact they had on the locals. War and hate has the ability to divide communities but Letters from the Lighthouse shows how much can be achieved when people work together.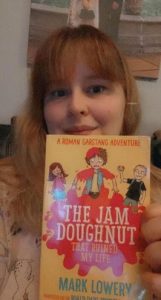 The Jam Doughnut That Ruined My Life – Mark Lowery
Roman loves jam doughnuts. He doesn't think they're as dangerous as sharks…or trousers! But he learns that they can cause a lot of trouble, nonetheless.
Roman's possession of a secret doughnut on a school trip attracts the prettiest and cleverest girl in the class. It also draws Darren Gamble, the class lunatic, who hits Roman with a poisonous jelly fish.
While his girlfriend's doughnut demands get out of hand, Roman's relationship with Darren leads to shaving and then losing his teacher's guinea pig, taking part in a sweet shop heist and causing a riot at an old people's tea party.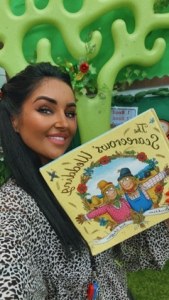 The Scarecrows' Wedding – Julia Donaldson
Betty O'Barley and Harry O'Hay were scarecrows. (They scared lots of crows every day.) Harry loved Betty, and Betty loved Harry, So Harry said, 'Betty, my beauty, let's marry! Let's have a wedding, the best wedding yet, A wedding that no one will ever forget.' "And so begin the plans for the best wedding the barnyard has ever seen! The scarecrow couple sets off for a hunt round the farm for everything they need for the festivities — a big white dress, rings, wedding bells (or, at least, cow bells)… But when Harry's search for flowers takes him far, far away, villainous scarecrow rival Reginald Rake sees his chance to ruin this beautiful day… Hurry back, Harry!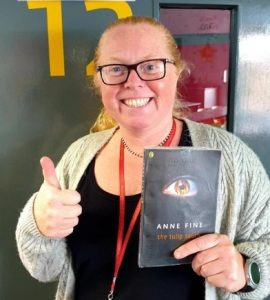 The Tulip Touch – Anne Fine
Natalie is a young girl whose family run hotels.  Upon moving to a hotel in a new area Natalie meets Tulip, a mysterious, remote girl who initially creates great intrigue, soon leading to dark, frightening behaviour.  Natalie finds herself following Tulip's lead despite her own misgivings, partaking in acts which isolate her from the rest of her peers.
As Natalie discovers more of Tulip's unfortunate home life and apparent unhappiness, she finds herself ever more faithful to her friend, albeit out of pity more so than out of solid friendship.  Eventually their relationship becomes less agreeable and through observing a sinister array of doings on Tulip's part, Natalie soon realises she cannot befriend her any longer and begins to separate herself.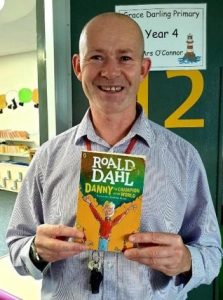 Danny Champion of the World – Roald Dahl
Danny thinks his dad is the most marvellous and exciting father a boy could wish for. Life is happy and peaceful in their gipsy caravan, until one day Danny discovers his dad has been breaking the law. What's more, soon Danny has to join his father as they attempt to pull off a daring and devilish plot against their horrible, greedy neighbour, Mr Victor Hazell.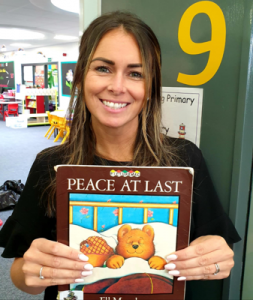 Peace at last – Jill Murphy
A family of bears; Mr Bear, Mrs Bear and Baby Bear. One particular evening daddy bear is struggling to fall asleep and so we follow his journey through the house trying to find somewhere comfortable and quiet to sleep. Throughout his journey we encounter a variety of different noises that disrupt daddy bear's sleep. Once daddy bear finally finds somewhere to sleep, the story takes an unexpected turn.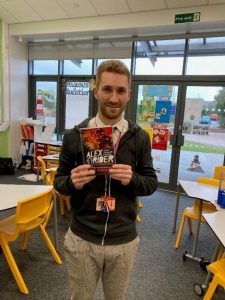 Alex Rider – Storm Breaker – Anthony Horrowitz
Alex's uncle dies in what he is told is a car accident. However, after doing some investigating on his own, Alex discovers his uncle was actually murdered. Convinced he never really knew his uncle, Alex continues to try to find out why someone would kill him. This leads to a meeting with Uncle Ian's employers who tell Alex his uncle was a spy for a special division of the MI6. Alex is blackmailed into finishing his uncle's case, a case that could lead to Alex's own murder. Stormbreaker is an exciting, suspenseful novel that jumpstarts the career of a highly unusual spy.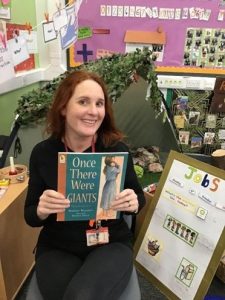 Once There Were GIANTS – Martin Waddell
There is a baby who lives among giants…. Soon the baby grows a little and can walk and talk. Then, one day, the baby is all grown up and has a baby of her own.
Suddenly there are giants in the house again, and she realizes, "One of the giants is…ME!"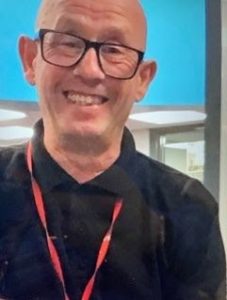 Charlie and the Chocolate Factory – Roald Dahl
Charlie Bucket lives on the outskirts of town with his poverty-stricken family: his parents and all four grandparents. Each day on his way to school, Charlie passes the best and biggest chocolate factory in the world, run by the secretive Willy Wonka. When Charlie's father loses his job, things go from bad to worse.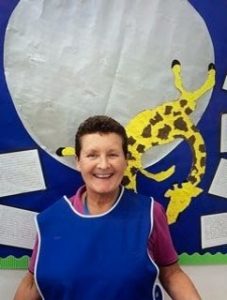 Charlottes Web – E.B White
Some Pig. Humble. Radiant. These are the words in Charlotte's Web, high up in Zuckerman's barn. Charlotte's spiderweb tells of her feelings for a little pig named Wilbur, who simply wants a friend. They also express the love of a girl named Fern, who saved Wilbur's life when he was born the runt of his litter.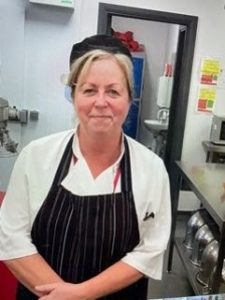 The Railway Children – E. Nesbit
Roberta, Peter and Phyllis leave their London home and move with their mother to a small cottage in the country where life is very different. With their mother now busy writing to earn money, the railway becomes a source of fascination and solace to the children.
They make friends with Perks the Porter and the station master, and discover new and exciting things about the trains. However, mystery remains – where is their father? Then the terrible truth is discovered.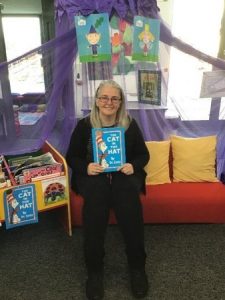 The Cat in the Hat – Dr Seuss
Poor Sally and her brother. It's cold and wet and they're stuck in the house with nothing to do . . . until a giant cat in a hat shows up, transforming the dull day into a madcap adventure and almost wrecking the place in the process!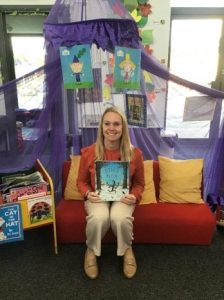 The Stick Man – Julia Donaldson
Stick Man is a very lucky stick, living with his Stick Lady Love and their three small sticks. However, one day he goes out for a jog and becomes caught up in many precarious events. He becomes a toy for a dog, a pooh-stick, nesting material and even firewood.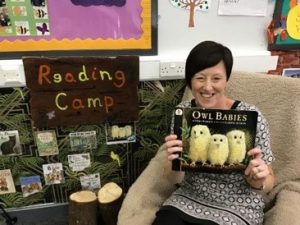 Owl Babies – Martin Waddell
Three owlets that wake up one night to find their mother gone, worry about her absence, but are then elated when she inevitably returns from her night flight.
You Choose –Nick Sharratt & Pippa Goodhart
Imagine you could go anywhere, with anyone and do anything. Where would you live? Where would you sleep? Who would be your friends? What games would you play? Go on… you choose!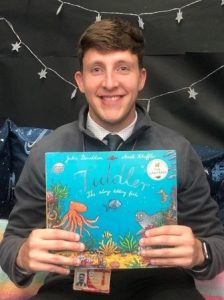 Tiddler – Julia Donaldson
It tells the story of a little plain fish who is repeatedly late to school, when asked why he is late, he tells the grandest of stories to his class. Tiddler tells his tales everyday but will anyone one believe he his fantastical story when he has a real adventure in the big wide sea.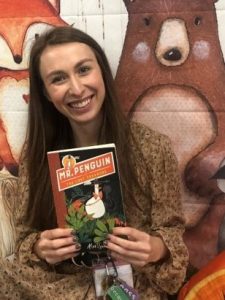 Mr Penguin and the Lost Treasure –  Alex T Smith
Mr Penguin and Colin (a spider and Mr Penguin's silent right hand man) are called in to find the missing treasure somewhere in the Museum of Extraordinary Objects. The quest finds them solving secret codes, fighting ferocious beasts, eating fish finger sandwiches and travelling deep below the museum to a lost jungle.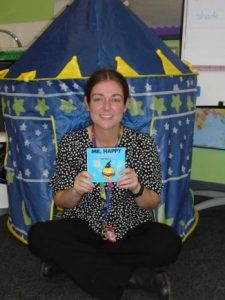 Mr Happy and the Wizard –  Roger Hargreaves
When Mr. Happy finds a wizard's spell book, he decides to use the spells to make people happier. But things don't work out quite as he planned…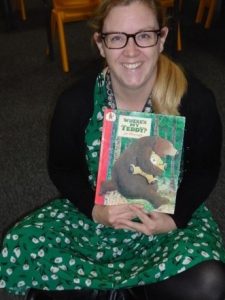 Where's my Teddy?  –  Jez Alborough
Yikes! Eddie's in for the surprise of his life when he discovers that his teddy bear has grown much too big to cuddle! But there's fun in store when Eddie meets up with a real bear who's got just the opposite problem—his lost teddy bear has shrunk to a size that's much too small for such an enormous bear to cuddle. Could it be a case of mistaken identity?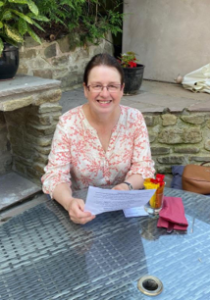 Anne of Green Gables – Anne Shirley
Matthew Cuthbert and his sister, Marilla, live in Avonlea on Canada's Prince Edward Island. Needing help on their farm, Green Gables, they apply to adopt a boy from an orphanage. By mistake, however, a red-haired, freckle-faced 11-year-old girl named Anne Shirley is sent to the siblings.